In order to send a message to a customer, you must first create an offer to open the lines of communication. Please note, creating an offer should be viewed as your first message to the customer. You may ask questions or edit details like time, date, passenger size, etc to create an offer that fits what you can do for that customer.
If you'd like to follow up your offer with a message or if a customer sends you a message and you want to reply, just follow these steps:
Go to you GetMyBoat Inbox


Find the inquiry for which you wish to send a message


Click on the messaging view (the quote box looking icon) and you'll see any previously sent or received messages and a text box to send a message.
That's it! Once you send a message, the other party will be notified. Please keep in mind that GetMyBoat does not allow the sharing of phone numbers, emails, websites, or social media profiles until after an offer is approved and the booking is confirmed. 
Attached are screenshots of what the messaging view looks like as well!
Screenshot #1 (example of where to find the Messaging View in your inbox view)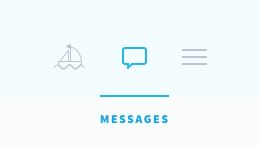 Screenshot #2 (an example of the messaging View, viewable once an offer has been created)